---
Dear Friend,
 
The Community Evangelistic series called "Tik Tok, Ready or Not" which will be held from July 9 to July 24, 2021, was organized mainly by the Children and Young Adult Departments of our Congregation. This was done in collaboration with our Pastor Charles Skeete, and our Board of Directors.
As believers in Jesus Christ as our guide and Savior, we believe that His words to "Allow the Little Children to follow me" in Matthew 19:14, is to be taken literally. This is the reason our Leaders have coordinated with our Children and Young Adults to have them deliver the words of inspiration and hope during this outreach series. This is following Jesus' example! There will be four Children speakers, and four Young Adult speakers, who all come from different backgrounds. 
These meetings are intended to help give people answers to the things happening around them. Answers to life's questions: who, why, what, where, and when. Folks often say there are more questions than answers, but we believe that Christ is the answer to our every need!
This is an exciting time for our congregation, and we look forward to our community friends being a part of this experience. Our young members have in the past shown great enthusiasm to share God's words, as well as their own experiences. We know that there will be a message for everyone, so we welcome you to be a part of this great experience. 
See you at 7:00 PM nightly, starting the weekend of July 9-11, through July 16-18, and July 23, with a celebration of God's goodness at 11:15 AM on July 24. You cannot afford to miss it!
Best Regards, 
Elder Colin Humphrey
Leader - Personal Ministries
Jesus said, Let the little children come to me, and do not hinder them, for the kingdom of heaven belongs to such as these.
---
Schedule of Events:
| Date & Time | Topic | Speaker | Direct Link |
| --- | --- | --- | --- |
| Friday, July 9, 2021 - 7:00 PM | "Father Time" | Isabelle | |
| Saturday, July 10, 2021 - 11:15 AM | "Just in Time" | Akua | |
| Saturday, July 10, 2021 - 7:00 PM | "Assurance in Crisis" | Eden | |
| Sunday, July 11, 2021 - 7:00 PM | "Solution for the Crisis. Get Ready" | Kirmane Jr. | |
| Friday, July 16, 2021 - 7:00 PM | "Time to Change" | Natalie | |
| Saturday, July 17, 2021 - 11:15 AM | "Family Time" | Erik | |
| Saturday, July 17, 2021 - 7:00 PM | "Special Time" | Antwayne | |
| Sunday, July, 18, 2021 - 7:00 PM | "Time of Resilience" | Vanessa | |
| Friday, July 23, 2021 - 7:00 PM | "Times of Loss" | Antwayne | |
| Saturday, July 24, 2021 - 11:15 AM | "Times of Refreshing" | Erik | |
---
Promotional Material 
Social Media Graphic: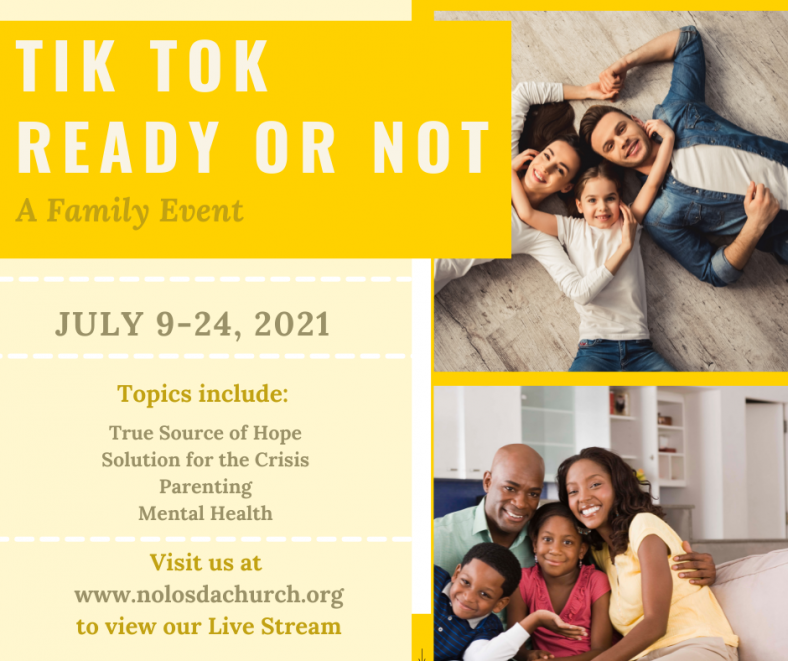 Promo Video: